Desk-top type X-ray System MX-90wide

Recommended case the inspection of these items:
Large sample
Metal connector
Electronic Parts
IC
Internal examination: Die-cast aluminum
Motor
Features
Wide field X-ray view: once found in large boards and samples (80 × 60mm)
Variable magnification features

Supports from small to large samples.
Fast and easy operation employs multi-function lever (X¥Y and the rotation are operated with one lever.)

You can intuitively easy to understand, rather than using the buttons to position.
The image processing system is installed and the image processing of super-high speed, and operated by one button easily.
MX-90wide can be inspected in larger parts than MX-90Basic.

Die-cast aluminum automotive parts and thin crack in cast iron can be observed.
The resolution improves by installing the option. (Image Intensifier Tube)
Specifications of MX-90wide
MX-90wide
X-ray tube
X-ray voltage
30kV〜90kV
X-ray current
max 0.5mA
Focus size
0.1mm
X-ray CCD
view
80mm×60mm(scale can be changed by the handle)
Option(I.I)
view
80mm×60mm
switch 4inch / 2inch
table
size
(W)600mm×(D)470mm×(H)140mm
motion size
180mm×200mm
Rotary axis
360°
Cabin
size
(W)700mm×(D)600mm×(H)770mm
X-ray leak level
Under1.0μSv/h
Cabin Weight
170kg
Image processing function
ImageView
With Image processing functions.
PC
With PC standard
Examples of X-ray images: by MX-90wide+I.I.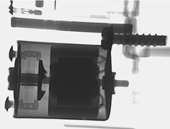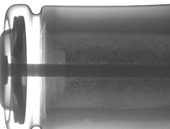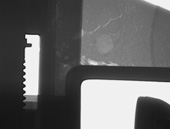 Information for our customers
Please contact us about our products.